You should always consult a Licensed Behaviorist first for temperament and training issues. Only a Licensed Behaviorist will be able to properly diagnose and treat your Bullmastiff.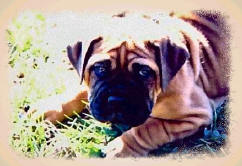 Helpful Links:
Picture Contributions
Down - Stay. Good Boy! This is one of the most important commands that every Bullmastiff should know. BluffCreek's Mighty Quinn is owned by Kelli Johnsen of MoKan Bullmastiff Rescue. This photo was taken by Jennifer Lane.