You should always consult a Licensed Behaviorist first for temperament and training issues. Only a Licensed Behaviorist will be able to properly diagnose and treat your Bullmastiff.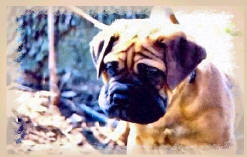 Helpful Links:
Picture Contributions
Who said a Bullmastiff cannot concentrate? Quinn sure is focusing on something! BluffCreek's Mighty Quinn is owned by Kelli Johnsen of MoKan Bullmastiff Rescue. This photo was taken by Jennifer Lane.