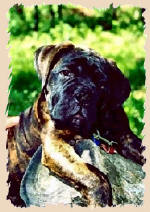 Oddities in the Bullmastiff breed show up from time to time due to recessive genes. These particular oddities - dudleyism and longhairs - are merely cosmetic and do not affect the true character of the Bullmastiff. They may not conform to a Bullmastiff Clubs' standard, but that doesn't mean they can't be great pets in the right home. Brindling in Bullmastiffs is an interesting subject because of the formula needed in order to create a true brindle. Brindling is by no means an oddity - it's actually the original coloring preferred of the Bullmastiff centuries ago.
Cosmetic Favors:
Cosmetic Flaws:
Picture Contributions
When developed for its original purpose of taking down poachers, the Brindle color in the Bullmastiff was preferred coat color due to its superb night camouflaging ability. The Brindle girl featured above is Georgia who is owned by Vickie Triemer of Bluff Creek Kennels. This photo was taken by Jennifer Lane.