You should always consult a Licensed Veterinarian first for medical and health issues. Only a Licensed Veterinarian will be able to properly diagnose and treat your Bullmastiff.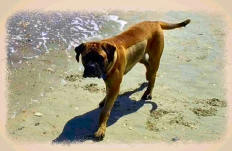 All Bullmastiff Owners must realize one thing - your Bullmastiff will get into some sort of an accident. No matter how much we try to avoid them! Now what will you do about it? Are you prepared to promptly handle serious accidents? Or will you throw your Bullmastiff away like a broken toy?
What about natural disasters? Will you abandon your Bullmastiff to fend for themselves or will you already have arrangements made for them to evacuate with you?
Ask your Veterinarian and/or Bullmastiff Breeder what he/she would suggest for a homemade First Aid Kit for your Bullmastiff. Do it now - it could save your Bullmastiff's life!
Picture Contributions
This is Mr. Harry after a long visit at the Emergency Vet Clinic from a swimming accident. When Bullmastiff pups - like Harry - get into an accident, the emergency bills are big. Making a fast and full recovery, Harry is out and about enjoying the shores again! This picture was contributed by his breeders Phil and Karen Burke of Beloved Toad Bullmastiffs.